Here is a list of the top 6 tools to be productive I use on a daily basis.
This is quite a good time to be alive.
It's not easy to achieve important goals, but today we have so many different options that it's impossible not to fall in love with the idea of pursuing something.
There's a problem though: sometimes even if you know exactly what you have to do to get to a certain point, you don't do it.
Productivity is a theme I've always loved to talk about because so many people think of themselves as busy, when the truth is they just don't optimize their processes.
Let's talk about some of my favorite tools to get productive.
1 – Notion
The first thing I think about when I think about productivity is Notion.
I'm using it right now to write this article and I'm even planning on using it more in the future.
The beauty of this app is that it combines so many features under the same roof and it gives you the possibility to manage every aspect of your life without logging in dozens of different services.
As of this month (may 2020), Notion became free for personal use.
If you're someone who has a hard time scheduling the day, knowing what to do or just being accountable, you absolutely have to try this.
2 – Whatsapp Web
Wait, what? Whatsapp on a list of tools to be more productive?
You heard that right.
But (of course there's a but) the reason is that Whatsapp Web, or its desktop app, makes me have no regrets when I choose to get rid of my phone.
I simply put it in a different room or in charge, so that I can complete my tasks without being tempted to check it every five minutes.
Whenever I plan to do this, I feel anxious because I could receive important messages in the meantime.
I don't keep Whatsapp Web always under my eyes though. The risk is that it could produce the same effect of the phone and I would end up checking it more often than I should.
But keeping it open in background plus not having notifications for all the various uni and friends groups works really well.
3 – Moleskine
This one really sets the mood.
Buying a physical journal was a necessary step for a tool-nerd like me.
I've tried other brands: Fabriano, cheap notebooks and pretty much everything I found on the stationery shelves in supermarkets, but in the end I decided that the 15/20+ € spent on an original Moleskine are totally worth the price.
One of the reasons that got me to this conclusion is also that it takes a really long time for me to fill one of those.
That's because I don't usually write long-form content on my Moleskine (I prefer to do that digitally, with Notion for example), but I just take brief notes about tasks I have to do, things to keep in mind and ideas to revise later.
Just thinking that I have this beautiful and elegant notebook with me makes me more alert and incites me not to lose something when it comes to mind.
4 – Keyboard Shorcuts
I spend the majority of my time in front of the pc, especially during this period.
As I have to switch from one task to another, from one app to another, I can't afford to lose precious time while doing this or any other activity that involves me navigating across my pc.
Since I've started using keyboard shortcuts for my most common operations, I'm a lot more dynamic when I'm working.
This means I'm able to be more focused on what I'm doing and yet more productive.
I'm a Mac user – mainly – so here are my favorite shortcuts for Apple computers that can save you time and energy:
⌘Cmd + ⇆Tab – it lets you switch between the different opened apps you have
⌘Cmd + Space – it makes Spotlight pop up, so you can navigate through files, apps, folders and you can open them quickly
⌘Cmd + ⇧Shift + 5 – it opens the screenshot/screen recording bar (I use this to take screenshots of formulas or passages on my notes or books)
⌃Ctrl + ⇆Tab – same thing as the first, but this works with browser tabs
And there are a ton of other useful ones.
You should simply try to recognize the actions you perform the most and look for a shortcut that lets you do that way more quickly with your keyboard.
Oh, and typing fast really helps too.
5 – Canva
We're all on social media, and a bunch of us are trying to use these tools to communicate and develop an audience that can be useful for our business or our personal brand.
Social media, today, are all about visual content.
Creating visually appealing posts has become a crucial factor in order to get people's attention and communicate a message.
But dealing with graphic design can be quite hard.
Not all of us are expert users of Adobe Illustrator or Photoshop, nor we have the time to learn them just to create some basic designs.
Canva is a game changer here.
The online app comes with a free version full of features but still easy to use and learn.
You can create beautiful artworks for your posts on Instagram or Facebook, clean presentations to use at work or on LinkedIn and even documents or CVs.
I use Canva to design all of vCreate's posts on Instagram and even for my own profile, when I need to create a slideshow or an infographic.
6 – Google Keep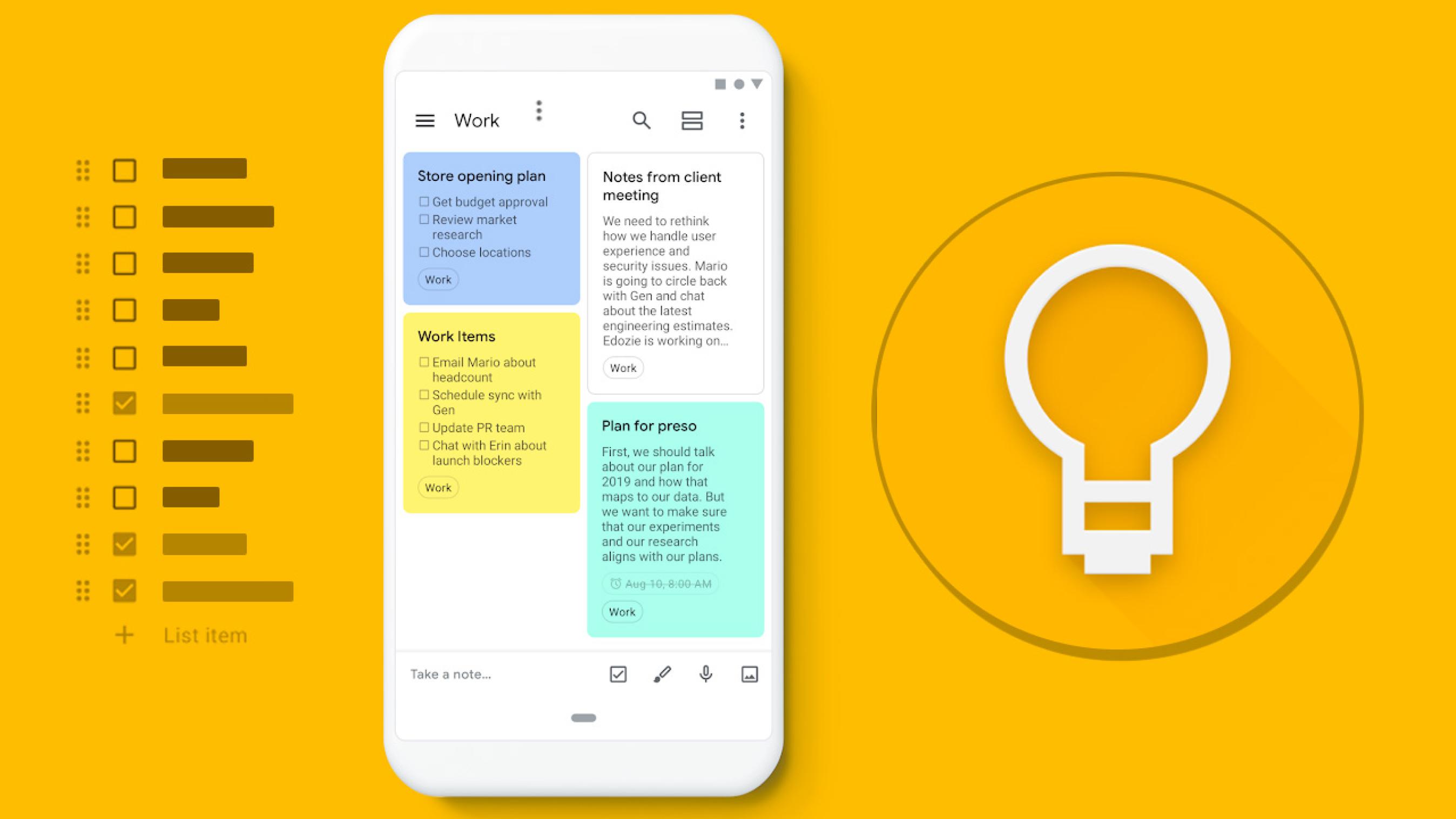 Note-taking apps are taking over the world.
There's a downside though: you probably don't know which one to use.
I think note-taking is a very general term, because when I need to take long form notes – like university notes, or articles or video planning – I use a solid program like Notion; but when I need to write something I have to remember or that can be useful when I'm away, I prefer Google Keep.
The reason is simple: Keep doesn't have a huge amount of features, but it's a reliable app that can easily sync your notes through all your devices.
I chose this one since I'm and Android user for my phone, but if you have an iPhone the standard Notes app is more than sufficient, since it has a Mac app while Keep doesn't.
Usually when we're on the go, we only have our smartphones with us, so having a place where you know you can store information you don't want to lose without taking out your laptop or your Moleskine is pretty convenient.
Tools to be more productive: one final tip
Productivity is a mindset. If you have the right reasons and the proper drive to do something and to achieve a goal, you'll be productive… no matter the tools.
Tools are just what makes it easier to stick to a habit or to commit to your thing.
Don't go crazy about what's perfect for that specific task, otherwise you simply won't get it done.
And one final thought: don't go crazy about productivity itself.
We're all different. I might enjoy working until I go to sleep because getting something done is what makes me happy, but if you don't it's not a problem.
We all have different dreams and different outcomes, but I think most of us need to take some time off. We're not machines and without the proper rest we tend to burn out.
Being productive doesn't have to lead us there, it has to help us get things done when we feel like doing them, so we can both be happy and reach our goals.
I hope you liked this one. Think about joining my mailing list if you did, there are even more specific pieces of content there!